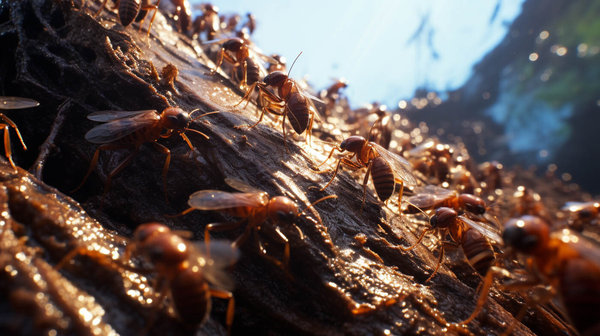 Extreme Adaptation: The Volcanic Termites of the Fiji Islands
In a groundbreaking discovery, entomologists have revealed a new species of termites that thrive in one of the most inhospitable environments on Earth – an active volcano in the Fiji Islands. Termitidae igneus, commonly known as "Volcanic Termites," have been found building colonies within cooling lava flows, demonstrating an astonishing ability to withstand high temperatures.
These remarkable termites have evolved a suite of specialized adaptations to survive in this extreme environment. Their exoskeletons have developed heat-resistant properties that enable them to tolerate temperatures that would be lethal to most organisms. Additionally, they secrete a unique heat-resistant substance that acts as a protective barrier for their nests within the lava. The Volcanic Termites primarily feed on heat-adapted microorganisms and chemosynthetic bacteria found within the volcanic rocks, an energy source that is virtually untapped by other species.
This unprecedented discovery is reshaping our understanding of the limits of life and the potential for organisms to adapt to extreme conditions. Researchers are now exploring the Volcanic Termites' potential applications in biotechnology and materials science, as their unique adaptations could inspire new innovations in heat-resistant materials. As scientists continue to investigate the biology, genetics, and ecological role of Termitidae igneus, this extraordinary species is certain to reveal invaluable insights into life's ability to adapt and thrive in the harshest of environments.