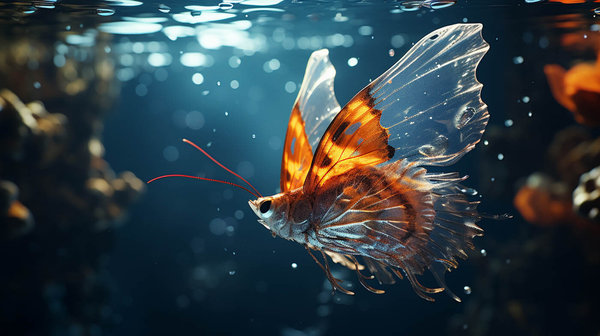 Oceanic Elegance: The Underwater Butterfly Fish of the Indian Ocean
Marine biologists have made a stunning discovery in the warm waters of the Indian Ocean – a new species of fish that bears an uncanny resemblance to butterflies. The Lepidopiscis volans, commonly referred to as the "Butterfly Fish," has captivated scientists and marine enthusiasts alike with its enchanting beauty and graceful movements.
The Butterfly Fish is characterized by its vibrant, multi-hued wings that mirror the intricate patterns of butterfly wings, complete with delicate filaments that resemble antennae. It propels itself through the water with a fluttering motion, appearing as though it is gracefully flying underwater. The Butterfly Fish is typically found in shallow coral reefs, where its striking appearance and ethereal movements blend seamlessly with the colorful and diverse marine environment.
As scientists delve into the ecology, behavior, and physiology of the Butterfly Fish, they are uncovering fascinating insights into its life cycle and feeding habits. The species primarily feeds on coral polyps and tiny crustaceans, using its delicate mouthparts to extract its prey. Its vibrant wings are not only instrumental for movement but also play a role in mate selection and communication.
The discovery of the Lepidopiscis volans is a testament to the incredible biodiversity of the Indian Ocean and the captivating mysteries that lie beneath its surface. As researchers continue to unravel the secrets of this remarkable species, the Butterfly Fish is sure to inspire awe and admiration for the wonders of the marine world.