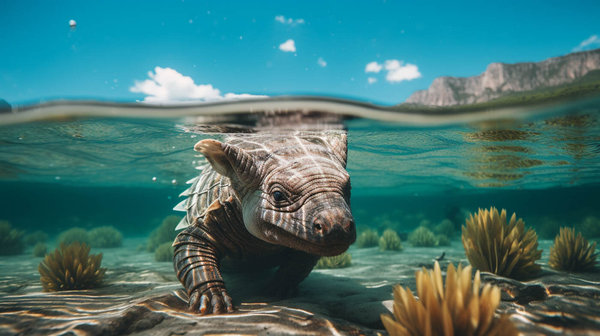 Remarkable Adaptation: The Aquatic Armadillo of the Andean Highlands
In a striking display of evolutionary ingenuity, researchers have uncovered the existence of an elusive species of armadillo adapted to life in the high-altitude lakes of the Andes in South America. The Dasypus aquaticus, also known as the "Water Armadillo," was discovered in a remote lake at an elevation of over 4,000 meters.
This remarkable species showcases a number of remarkable adaptations to its unique aquatic habitat. It features a streamlined, hydrodynamic body, webbed feet for efficient propulsion, and specialized claws for foraging on lakebed vegetation. Its armor-like carapace has evolved to be more flexible and buoyant, aiding in swimming and floating on the water's surface.
The Aquatic Armadillo feeds primarily on aquatic plants, small fish, and crustaceans found within its high-altitude home. It is thought that this niche adaptation may have been driven by the scarcity of food and high competition in the harsh Andean environment.
This extraordinary discovery is shedding light on the extent of biodiversity within the Andes and the ability of species to adapt to challenging habitats. Researchers are eager to delve into the Water Armadillo's evolutionary history, physiology, and behavior, as well as its role within the fragile ecosystems of the Andean highlands.