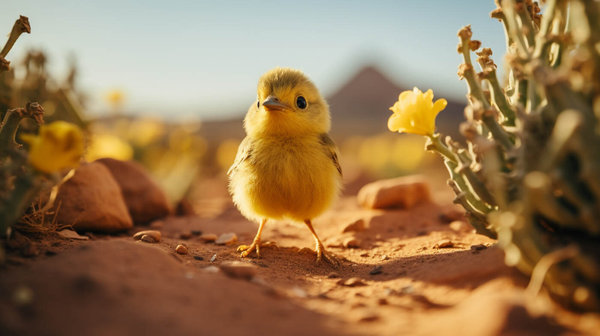 Swift Desert Chick: New Flightless Bird Species Discovered in Mexican Desert Showcases Remarkable Adaptations and Evolutionary History
The newly-discovered flightless bird in the Mexican desert has been scientifically named "Velocipullus desertus," which translates to "swift chick of the desert." This remarkable bird, resembling a bright yellow baby chick, has captivated researchers with its agility and adaptability to the harsh desert environment.
The lineage of the Velocipullus desertus can be traced back to the Miocene epoch, around 10 million years ago, when its ancestors are believed to have arrived in the region. Its early ancestors were likely strong flyers, but over time, the bird evolved into a flightless species. This adaptation is thought to be a response to the scarcity of resources and high temperatures of the desert, which favored energy conservation over flight.
The Desert Chick's nesting behavior is a survival strategy inherited from its ancestors. These birds have evolved to dig holes beneath large desert bushes, creating a cool and sheltered environment for nesting. This behavior not only helps to avoid extreme temperatures, but also provides protection from predators.
Despite its small size, Velocipullus desertus has a powerful set of legs that allow it to run swiftly across the desert landscape. This adaptation enables the bird to quickly find food and escape from predators. Its diet consists mainly of insects and small reptiles, which it hunts by darting across the desert sands.
The Velocipullus desertus's evolutionary history and unique adaptations make it a fascinating subject of study for researchers interested in understanding the complexities of desert ecosystems and the survival strategies of species in extreme environments.